December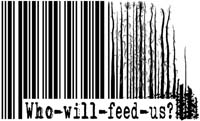 etc Group "Who will Feed Us?" asks what the FAOs Commission on Genetic Resources which met recently & quietly in Rome did to "to review the preparedness of the international community to adapt and develop crops, livestock, aquatic and microbial genetic resources used in food and agriculture to address climate change. The meeting also considered the political and corporate constraints that could prevent a major strategic shift to achieve our food security".
Sustainability produced a special issue "Renewable Agriculture" which opens with: "For centuries the perceived need for an immediate and dramatic increase in agricultural production has been a theme throughout the developed world. But only very recently, and with less urgency, has society recognized the need for the true sustainability of agricultural production. For long-term sustainability, agriculture must have the capacity for renewal". One of the 10 artices is about Concentration in the seed industry, just in time for the Associated Press Investigation into " how the world's biggest seed developer is squeezing competitors, controlling smaller seed companies and protecting its dominance over the multibillion-dollar market for genetically altered crops".
| | |
| --- | --- |
| | Oxfam GB & IIED Fair Miles: Recharting the Food Miles Map says that "while food miles loom large in our carbon-aware times, transporting it counts for less than you might think. And there is a far bigger picture. Food is more than a plateful of emissions." |
Research Councils' Parthership launch a new website – www.foodsecurity.ac.uk – " to explore the issues around the looming challenge of feeding a global population predicted to reach 9bn by 2050, and the world-class UK research already underway to help avert a potential crisis."
Sustainable Development Commission Setting the Table advises the government that "developing a better understanding of a sustainable diet is essential for government to achieve its objective of 'a sustainable, secure and healthy food supply'. Not only would this provide more coherent messages to consumers, but it would also help clarify what is required of the supply chain".
Institute for Agriculture & Trade Policy (IATP) Climate Series concludes that "to effectively address global climate change, policy solutions must support a transition toward more sustainable agriculture systems that recognize the critical role agriculture plays in the world ".
Charlie Clutterbuck (Our Director) has two articles:
November
Save the Children's Hungry for Change report proposes " to governments an eight-step package to improve the diets of pregnant women and children under the age of two, and thereby to help prevent hunger and malnutrition"; package component 3 of which talks sbout nutrition friendly agriculture. "Agricultural policies must be adopted that are designed specifically to increase the incomes of the poorest sections of society and take into account the difficulties they face in accessing land, inputs and labour."
Rapporteur at the World Summit on Food Security, Olivier de Shutter, gave the 26th McDougall Memorial lecture (pdf), and made a short statement saying: "We are now at a critical juncture, in which the tension between supporting smallscale agriculture and sustainable modes of farming, on the one hand, and pushing for more competition on increasingly globalized food markets dominated by large agribusiness corporations often tempted to depress the wages of agricultural laborers, on the other hand, is more and more visible". More on Olivier de Schutter UN Rapporteur on Right to Food
FoE & CiWF Eating the Planet: How we can feed the world without trashing it found "that a global diet equivalent to eating meat three times a week would allow equal nutrition for all with forests remaining untouched, animals farmed in free-range conditions and greener farming methods used."
Worldwatch Institute Livestock & Climate Change says: "The environmental impact of the lifecycle and supply chain of animals raised for food has been vastly underestimated (by FAO), and in fact accounts for at least half of all human-caused greenhouse gases (GHGs)". Critique of this paper.
October
| | |
| --- | --- |
| | Oakland Institute The Great Land Grab: Rush for World's Farmland Threatens Food Security for the Poor, the sounds the alarm on the threat that land grabbing poses to food security and livelihoods. Land grabs -- the purchase (or long lease) of vast tracts of land from poor, developing countries by wealthier, food-insecure nations and private investors--have become a widespread phenomenon, with foreign interests seeking or securing between 37 million and 49 million acres of farmland between 2006 and the middle of 2009. The Report "lays bare the insidious role played by international financial institutions like the International Finance Corporation of the World Bank and Foreign Investment Advisory Service (FIAS), as well as rich nations, in promoting and facilitating this widespread land reappropriation." |
Royal Society Reaping the Benefits discusses "the need for a sustainable intensification' of global agriculture in which yields are increased without adverse environmental impact and without the cultivation of more land." The report sets out the challenges to food crop production and then goes on "to examine in detail the various technologies that might be used to enhance production, with the conclusion that a diversity of approaches are needed. Due to the scale of the challenge, no technology should be ruled out, and different strategies may need to be employed in different regions and circumstances. Finally, consideration is given to the consequences and complications of food crop innovation." It says that Research Councils in the UK should funnel at least £2 billion in funding over the next 10 years into research projects. Research areas (pdf)
Action Aid Report 'Hunger Free' for World Food Day 2009 says ""Hunger begins with inequality," and then grows because of "perverse policies that treat food purely as a commodity, not a right"". The findings show that "some of the poorest countries in the world have made striking progress towards reducing hunger, while some wealthier countries are failing in their responsibility to end global hunger. The UK, which comes 8th out of 22 developed countries, has overlooked the role of smallholder, subsistence and women farmers in increasing food production, and puts too much faith in unaccountable bodies like the World Bank".
International Food Policy Research Unit (IFPRI) Global Hunger Index reveals that the Democratic Republic of Congo has seen the steepest rise in hunger since 1990, followed by Burundi, the Comoros and Zimbabwe. However, some countries have dramatically improved levels of malnutrition since 1990, including Vietnam, Brazil, Saudi Arabia and Mexico. The survey suggests that empowering more women in developing countries through education and better access to jobs is a key to reducing world hunger. The 2009 GHI survey found a strong correlation between gender inequality and malnutrition rates for children.
Scientific American Another Inconvenient Truth says " Agriculture is the main driver of most ecological problems on the planet... We are literally eating away the other species on the planet."
September
First Report of Council of Food Policy Advisers identified three priority areas to focus on: Defining an environmentally sustainable, healthy diet, Government setting an example via public procurement, & a UK fruit and vegetable strategy.
Natural England Fishing for the Future says: "Overfishing is one of the most significant environmental issues we face and it is clear from our research that the public are increasingly aware of the problems. Three quarters of the public would pay more for fish caught without damaging the environment".
IFPRI (the International Food Policy Research Institute) Agriculture and climate change: An agenda for negotiation in Copenhagen is a series of briefing documents on what needs to form part of any Copenhagen deal with respect to agricultural mitigation and adaptation, where agriculture is both part of the problem and of the solution. The briefing documents look both at the technological and institutional challenges that need to be overcome.

Food Ethics Council magazine Food Waste: Dishing the Dirt says:

"Wasting food is costly, damages the environment and, in a world where a billion people are hungry, deeply unfair. But is simply cutting food waste enough to tackle these problems?"
Joint FSA DEFRA document "GM crops and foods: Follow up to the Food Matters Report (pdf)", says supermarkets are paying 10-20% more for the dwindling supplies of conventional maize and soya. Following a meeting with all the big retailers the report says: "Retailers were concerned that they may not be able to maintain their current supplies of non-GM sources of supply as producers increasingly adopt GM Technology around the world". Our commentary
August
| | |
| --- | --- |
| | New Economics Foundation (NEF) Reframing the great food debate sets out that "the notion of sustainable food (defined as 'food associated with high levels of well-being, social justice, stewardship and system resilience') can serve as the basis of an agenda for action with the objective of re-orienting the food system so that its explicit objective is to enhance well-being, and as such is both fairer and greener." |
Campaign for Real Farming New Blogspot whose aim is "to show how to feed everyone who is ever liable to be born on to this Earth to the highest standards of nutrition and gastronomy, and to bring together the people who can make it happen."
DEFRA's Food for the Future - Food 2030, UK's first food security assessment, is a package of material on the future of our food system, that "discusses issues ranging from how we can create a sustainable food system locally and globally, to the challenges of rising global demand for food and the ways in which food contributes to greenhouse gas emissions." It follows Select Committee recommendations (see below) closely. Join DEFRAs Discussion of Food 2030. See detailed Comments and Commentary
Three Wise Men in Washington Post propose a 50 Year Farm Bill for "gradual, systemic change in American farming. The plan asks for $50 million annually for plant breeding and genetics research. But it also puts forward a new vision of agriculture, one that values not only yields but also local ecosystems, healthy food and rural communities".
July
Food Standards Agency Organic Review shows "that there are no important differences in the nutrition content, or any additional health benefits, of organic food when compared with conventionally produced food." Soil Association response Bad Science: It's about capitalism not food. FSA CEO's letter
Horticulture's most influential organisations have praised calls by MPs (EFRA Committee below) to investigate the barriers to increasing food production in the UK. Follow the comments!
EFRA Select Committee report Securing our food supplies to 2050 says: "UK SHOULD PRODUCE MORE FOOD, MORE SUSTAINABLY".The Chair the Rt Hon Michael Jack MP said: "the "UK can play a leading role both in Europe and globally in making sure that our farmers and food industry can contribute effectively towards meeting the challenge of a world that will need to double its food output by 2050 whilst coping with the pressures of climate change as well as global plant and animal diseases. Every region of the UK has a contribution to make". Charlie was their Specialist Adviser.
Working Paper Can Totnes (Devon) Feed Itself? is "the most comprehensive look at, and is the first step in developing a national project and tool around, the 'Can Britain Feed Itself' question".
| | |
| --- | --- |
| Sustainable Development Commission's paper Food Security and Sustainability: The Perfect Fit calls "for a new definition of food security in order to feed everyone sustainably, equitably and healthily ..and for.. the Government to make a clear statement of intent to encourage maximum levels of appropriate and sustainable food production in the UK". | |

Two studies involving organic farming: FAO Low Greenhouse Gas Agriculture pdf "

"
Environment for Development in its study Benefits of Organic Study as a Climate Change Adaptation says : "Organic agriculture, as an adaptation strategy to climate change and variability, is a concrete and promising option for rural communities and has additional potential as a mitigation strategy".
National Geographic magazine "Global Food Crisis: The End of Plenty" says:

"Modern society has relieved us of the burden of growing, harvesting, even preparing our daily bread, in exchange for the burden of simply paying for it. Only when prices rise do we take notice. And the consequences of our inattention are profound."
June
Scientific American Phosphorus Famine: The Threat to Our Food Supply says: "This underappreciated resource - a key component of fertilizers - is still decades from running out. But we must act now to conserve it, or future agriculture could collapse" . Peak Phosphate
Worldwatch Institute Mitigating Climate Change through Food and Land Use "Land makes up a quarter of Earth's surface, and its soil and plants hold three times as much carbon as the atmosphere. More than 30 percent of all greenhouse gas emissions arise from the land use sector.... only land-based or "terrestrial" carbon sequestration offers the possibility today of large-scale removal of greenhouse gases from the atmosphere, through plant photosynthesis."
McDonald's Europe website Flagship Farms aims "to get people talking and sharing examples of sustainable farming practices".
Scottish Government published their first National Food & Drink Policy based on five workstreams: Sustainable economic growth, Healthy food choices, Food Security, getting public procurement right..and celebrating Scotland as a land of food & drink. Hic
Swedish Guidelines promote climate friendly food choices and "recommend citizens to reduce their meat and rice consumption as a way of reducing greenhouse gas emissions". The first of their kind, the guidelines are now being sent out for reactions and inspiration from other EU countries. English version pdf
Sustainable Development Commission says UK must rethink its Food Policy. Jonathon Porritt SDC Chair at Camden Lecture launched 'a sharp attack on the government's Sustainable Farming and Food Strategy. It was, he said,"no longer fit for purpose".'
British Retail Consortium Retailers Record in Obesity Fight Report where "retailers are demonstrating the effectiveness of working with customers to help them make the lifestyle changes needed in the fight against obesity."
May
Post Carbon Institute Food and Farming Transition: Toward a Post Carbon Food System says "The American food system rests on an unstable foundation of massive fossil fuel inputs. It must be reinvented in the face of declining fuel stocks. The new food system will use less energy, and the energy it uses will come from renewable sources. We can begin the transition to the new system immediately through a process of planned, graduated, rapid change. The unplanned alternative-reconstruction from scratch after collapse-would be chaotic and tragic."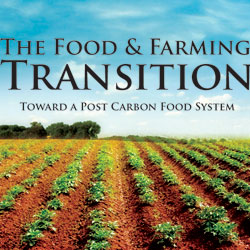 Ferdinand Dimadura Film Chicken a la Carte first shown at the Berlin Short Film is about "the hunger and poverty brought about by Globalization" and is most popular viewing at "Green Unplugged" Film Festival. Watch it here. ..
Dept of Health Sustainable Food: a guide for Hospitals "describes why the sustainability of food is important; provides guidance on what hospitals can do to improve the sustainability of the food they provide to patients, staff and visitors; and advises on how hospitals can assure the sustainability of their food service provision."
International Food Policy Research Institute Land Grabbing by Foreign Investors in Developing Countries says that "One of the lingering effects of the food price crisis of 2007–08 on the world food system is the proliferating acquisition of farmland in developing countries by other countries seeking to ensure their food supplies." UK companies have bought/leased/secured nearly 200,00 hectares in Africa. Check out the map of who is buying what, why, and where.
April
| | |
| --- | --- |
| Food Ethics Council's Future Scenarios for the UK Food System was "developed as part of our two-year research project on sustainable food distribution, these scenarios help us think about how the UK's food system could develop over the next couple of decades, and highlight possible future trends that have received scant attention in policy and business initiatives on food distribution." | |
DEFRA & Deloitte Public Sector Food Procurement Initiative An Evaluation "shows that the PSFPI has had a positive impact on the progress of public procurement towards a more sustainable model with the limted funding and resources dedicated to it over the last five years" Evidence of this success is presented in the report, which also identifies areas where performance could be improved.
RELU (Rural Economy and Land Use) Implications of a Nutriton driven Food Policy for Countryside pdf investigates "the effectiveness of policies designed to promote healthy eating, the potential for modified agricultural husbandry methods to produce healthier food products, and the implications for the countryside".
Internatioal Food Policy Council Agriculture & Climate Change is "to support the goal of putting agriculture on the agenda of the United Nations Framework Convention on Climate Change negotiations in Copenhagen in December 2009....If fundamental climate change mitigation and adaptation goals are to be met, international climate negotiations must include agriculture"
| | |
| --- | --- |
| Gillian Tett (Financial Journalist of the year) Fools Gold says : "If you as a consumer just buy crap food and don't ask what's in it, what it's doing to your body, how it's being procured, that is a real derogation of responsibility" and "not asking questions about how money goes round the world, who controls it and if it's sustainable is a derogation too". | |
New Economics Foundation (NEF) Green Stimulus or Similus? concluded: "the UK economy faces a triple crunch: a recession triggered by a major credit crisis, the looming reality of runaway climate change and critical resource depletion. As a result we face serious challenges to our livelihoods and increasing threats to our fuel and food security." (We need a closer study of the links between food sustainability, security and 'green new deal').
March
Roberts Inc Pacific Sustainability Index of Consumer Food, Food Production & Beverage Sectors Analysis is "to acquaint students with environmental and social issues facing the world's industries, and the ways in which industry approaches and resolves these issues." It puts Coca Cola and Pepsi at the top of the PSI (shome mishtake shurely?).
Dept. for Innovation, Universities & Skills Potential to increase the productivity of wheat & oilseed rape in the UK concludes: "It will be important to consider how a push for productivity will change not only the extent of public investments but their character - clearly there will an extent to which the focus of plant sceince will need to be on both the laboratory and the field. and there may be structural repercussions of such a re-emphasis. For example, an enthusiam for eduction in the sciences of primary production may need to be rekindled, since skills shortages in agriculture are now clearly evident".
Smith Institute Feeding Britain (pdf) says :"At the global level, population growth, economic growth in key emerging countries, changing dietary patterns, finite land availability, climate change, challenges to the availability of key resources, the energy challenge, and a slowdown in the rate of growth of food productivity all point towards the need for new thinking. We tend to think of these issues in an international context, but in a globalised world they will inevitably affect the UK."
Institute for Agriculture & Trade Polcy in Integrated Solutions to the Water, Agriculture and Climate Crises says: "this year, three major international meetings seek to identify solutions to the water, food and climate crises: the World Water Forum (March), the UN Commission on Sustainable Development (May) and the United Nations Framework Convention on Climate Change (December). The time is ripe to identify the interconnections between the three crises and develop complementary policy options and action steps." And UK Chief Scientist John Beddington also warns: "A "perfect storm" of food shortages, scarce water and insufficient energy resources threaten to unleash public unrest, cross-border conflicts and mass migration as people flee from the worst-affected regions" at SDUK 09 Conference.
| | |
| --- | --- |
| | The Rough Guide to Food is "here to show you that food can be good for you, good for the planet and taste great, all at the same time! ....With a plethora of good honest advice and the shattering of harmful myths, the guide also decodes those grub-related catch words like organic, local, wholefoods, vegetarian, vegan, food-intolerance, Fairtrade, sustainability and the worst of all – diet!" |
John Innes Institute Making Sense of GM says: "Discussion about GM seems to have become a proxy for other much-needed discussions about food shortages, economic power of multinational corporations, food safety, farming systems and trade agreements, which go far beyond this technology and its applications."
Food Ethics Council Fish - All washed up reveals "that while the problems we face are critical, they are reversible. Initiatives by governments, NGOs, the retail sector and fishing communities are all making a difference around the world."
February
IUF (International Union of Food & Farmworkers) Report Goodbye Paraquat surveyed 40 major food producers and found "that in the palm oil, banana, and tea sectors, Paraquat-free production is not only desirable but also economically viable and thus possible."
| | |
| --- | --- |
| | Chatham House report Food Futures: Rethinking UK Strategy says: "Over the next few decades, the global food system will come under renewed pressure from the combined effects of seven fundamental factors: population growth, the nutrition transition, energy, land, water, labour and climate change" and that "The UK can no longer afford to take its food supply for granted." |
IVth World Congress on Conservation Agriculture hears top FAO expert say Farming must change to feed the world. The world's farmers must quickly switch to more sustainable and productive farming systems to grow the food needed by a swelling world population and respond to climate change, said Shivaji Pandey, Director of FAO's Plant Production and Protection Division.
January
IPPR(Institute for Public Policy Research) Just Desserts: Securing global food futures says: "currently missing from grand global plans is a considered debate about the type of agriculture and the systems being invested in, with regard to ecological sensitivity and sustainable production."
Chatham House Report The Feeding of the Nine Billion: Global Food Security for the 21st Century says recent falls in food prices are no more than a temporary reprieve and are set to resume their upward trend once the world emerges from the current economic downturn and urges policymakers to start planning now for a future 'food crunch'.
European Group on Ethics of the European Commission, in the Ethics of modern developments in agriculture technologies pdf considers the goals of (1) food security, (2) food safety and (3) sustainability as first priorities and guiding principles to which any technology in agriculture must adhere. The Group recommends an integrated approach in agriculture, based on a system where its constituent units are balanced, not just at a technical level but also at an ethical level.
Environmental Health Practitioner Waste not want not explores: "Where we get our food from, what we eat and how it gets from farm to plate is exercising policy makers and the debate is set to impact on health, food safety, the economy, climate change and sustainability."
Wiley Books Sustainability in the Food Industry says "We must acknowledge that our expansion in human population and increase in food production do come at a cost, often one that we are unable to calculate." Out in March.
University of Groningen Food and Land Use assesses the relationship between food consumption patterns and the use of agricultural land
North West Regional Development Agency Re-engaging with the land (pdf) says that "awareness of land use pressures needs to be raised in order to develop more robust systems for promoting sustainable land use."
London Science Museum Exhibition Future Foods: Discussion about GM. Podcast
Our other News feeds..
Click here to close this window.